tadao ando-designed 'bourse de commerce' paris art museum set to open in september 2020
in june 2017, japanese architect tadao ando presented ambitious plans to transform the 'bourse de commerce' — paris' historic stock exchange — into a museum for businessman and art collector françois pinault. as part of the project, ando — who pinault previously tasked with restoring venice's punta della dogana — designed a central cylinder that has now been inserted into the existing structure, forming a new exhibition space. the remainder of the building, including the dome, which is listed as a historical monument, is being completely restored and modified. new videos and images document the construction process, with the venue expected to open later in 2020.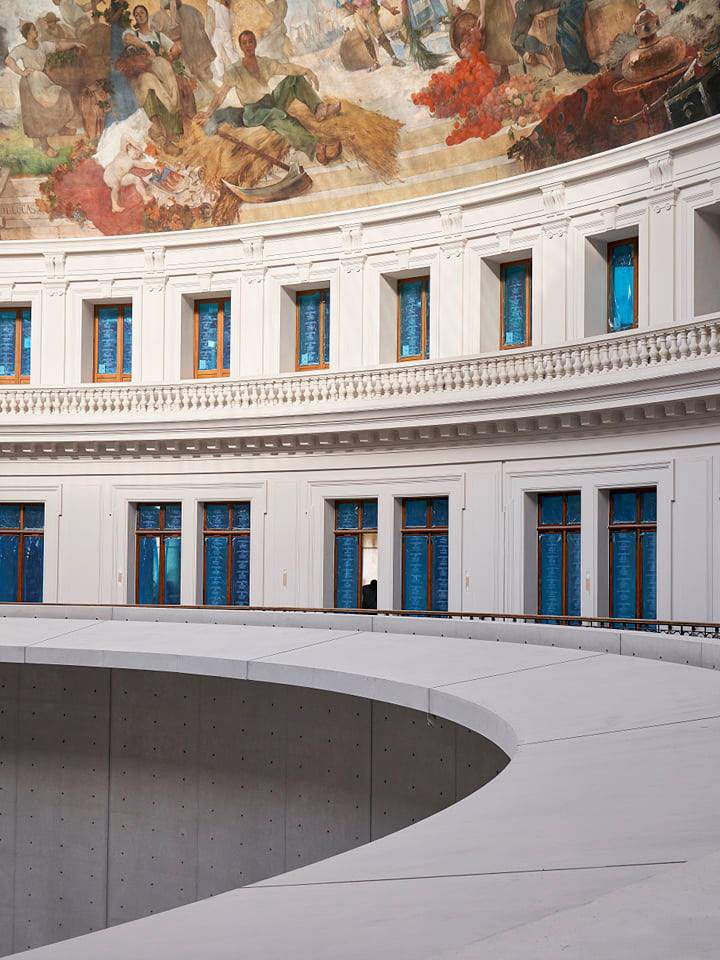 image courtesy of bourse de commerce — pinault collection (also main image)
centrally located in paris' 1st arrondissement, the bourse de commerce has a circular plan with a rotunda at its center. ando's concrete cylinder takes the form of a nine meter-high wall that spans 30 meters (almost 100 feet) in diameter. four identical openings will provide access and allow natural light to illuminate the space. 'this cylinder will give shape to the central exhibition space under the cupola and encase the auditorium and foyer below ground,' explained ando when the project was revealed.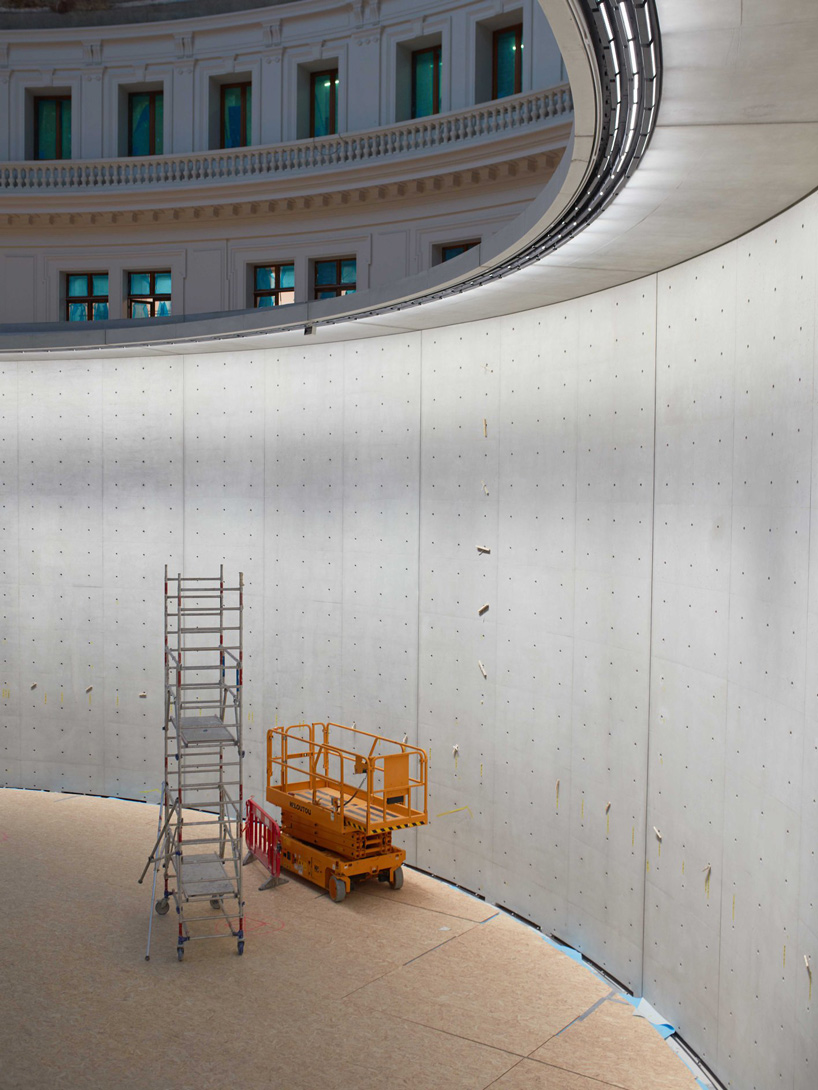 image courtesy of bourse de commerce — pinault collection
the intervention — developed in collaboration with niney & marca architectes and pierre-antoine gatier — also creates a new corridor space between the outside of the cylinder and the existing interior façade. here, new stairwells and passageways will ensure that visitors are able to access the entirety of the building, including a host of facilities contained below grade. the 300-seat auditorium will provide a setting for screenings, conferences, and concerts, while a black-box theater will host video installations and more experimental performances.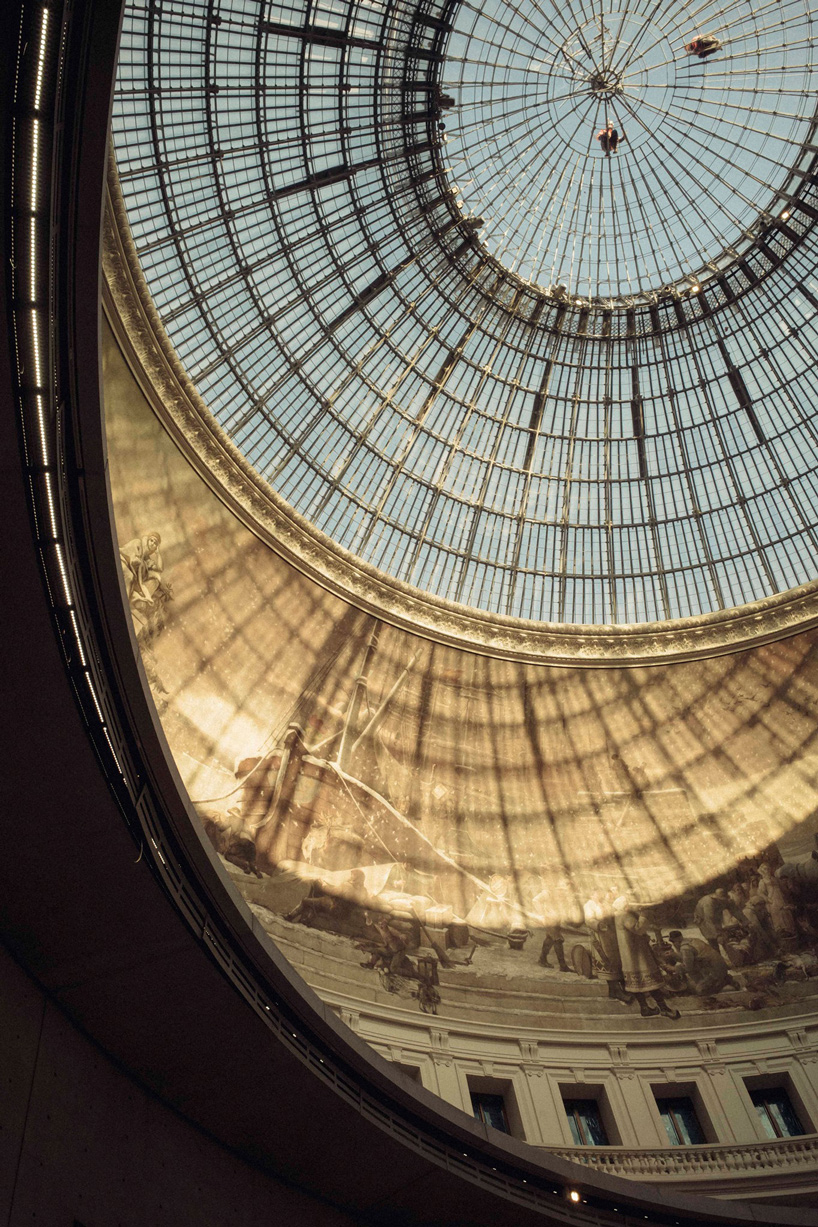 image © tadao ando architect & associates, niney et marca architectes
once open, the institution will offer 3,000 square meters of modular exhibition space, which can either be subdivided or used to host large-scale projects. guests will enter into a ground floor reception area, before continuing to a double-height gallery space. a small exhibition space on the first storey is to be positioned between the building's historic walls, while the galleries on the second floor are accessible from two points. the route will culminate with a restaurant and a lounge, from where sweeping views are provided of the city and the frescoes overhead.
the interior of the rotunda | video courtesy of bourse de commerce — pinault collection
in response to the COVID-19 pandemic, the institution has announced that it now plans to open to the public in september 2020. more videos detailing the project's construction can be seen on the venue's youtube channel. see designboom's previous coverage of the project here.

project info:
name: bourse de commerce — pinault collection
design: tadao ando architect & associates, NeM / niney & marca architectes, and pierre-antoine gatier
location: paris, france
opening: september 2020
previous coverage: june 2017
philip stevens I designboom
mar 20, 2020
Architecture, architecture in france, architecture in paris, Art, Design, Entertainment, Inspiration, museums and galleries, tadao ando 安藤忠雄
Architecture, architecture in france, architecture in paris, Art, Design, Entertainment, Inspiration, museums and galleries, tadao ando 安藤忠雄