a 60cm void brings natural light and ventilation to an informal settlement in jakarta
through community engagement and local construction techniques, r/urban design office (R/UDO) has realized a housing prototype in one of  jakarta's most densely populated unplanned settlements. the project, dubbed 'megacity skeleton 1', was undertaken in collaboration with studio cikini and aims to improve the overall living standards with the integration of simple yet effective design strategies.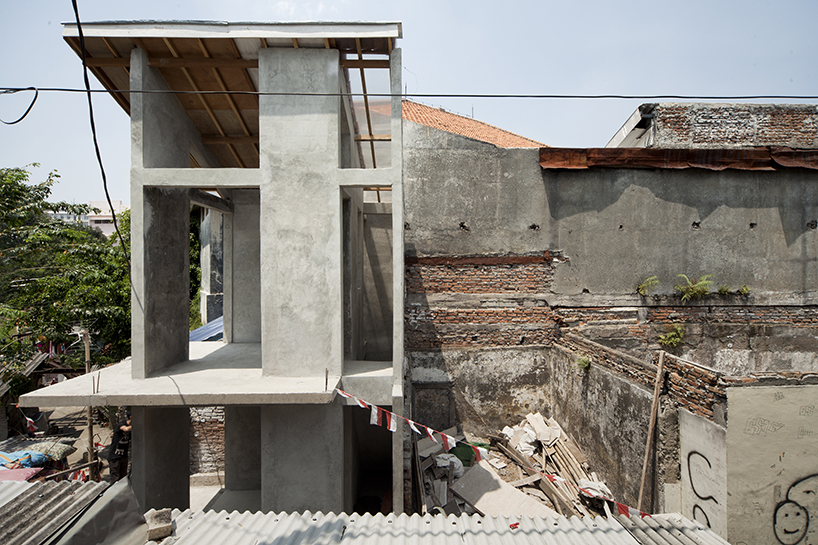 exterior view of the 'permanent skeleton'
all images © NUWALARUPA
since 2011, R/UDO has been working on practical projects in kampong cikini in collaboration with the university of tokyo and universitas indonesia. kampong means 'village' in indonesian and kampong cikini is a highly populated residential area in jakarta. despite its poor hygiene and environmental conditions, the area has become highly populated and fostered a strong sense of community over time. the challenge to the architects is to propose a series of micro architectural interventions that enhance living standards while respecting the existing urban structure and social fabric.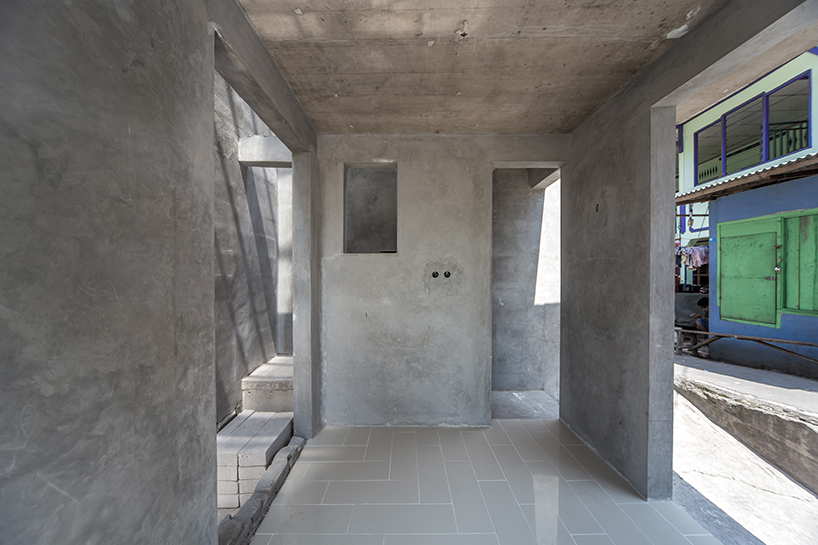 exterior view of the 'permanent skeleton' at ground floor
a typical house in kampong cikini extends each floor as wide as possible and as a result, the interior space doesn't get enough sunlight or ventilation. to solve this, the jakarta government has started to renovate existing houses by reducing the front elevation by one meter, therefore making the narrow alley wider. R/UDO + studio cikini's proposal offers an alternative design that intends to maintain the atmosphere of the narrow alley. rather than reduce the front elevation, megacity skeleton 1 cuts a space at the back of the house. called an 'environmental void', this 60cm gap allows natural light and air deep into the floor plan of the house.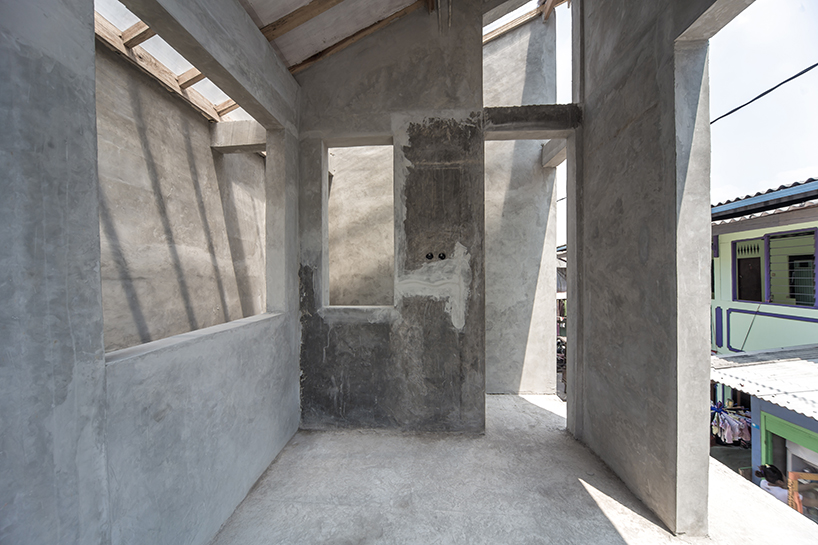 exterior view of the 'permanent skeleton' at first floor
the design embraces 'a strong, simple idea', allowing residents of the community to learn how to construct the prototype themselves. spanning a total area of 24.7 m2 over two floor levels, the primary structure, or 'permanent skeleton', was built using reinforced concrete. the secondary structure, or 'flexible skin', made from a timber frame was then added. this dual system intends to control the possibility of DIY constructions by local residents, with the reinforced concrete providing an immovable base and the exterior 'flexible skin' being given to the community for adaptation.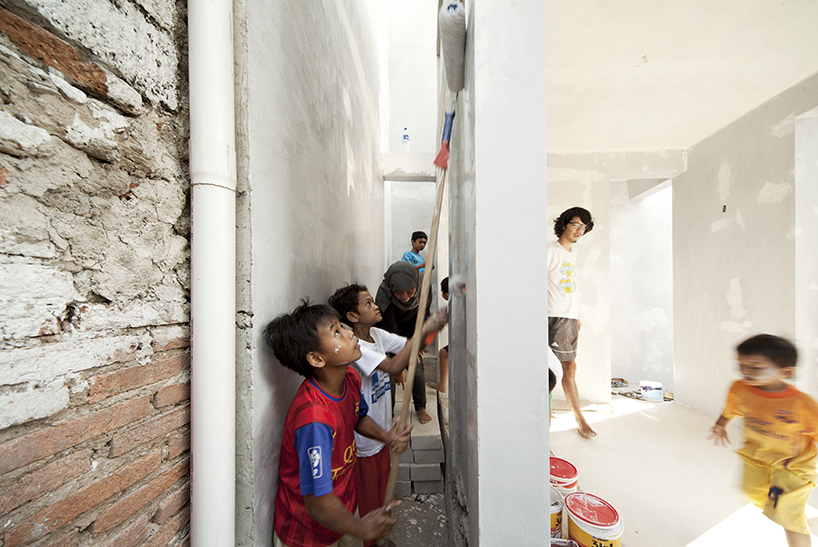 the 'environmental void' painted in white by local children
in what provided an opportunity to consider the social responsibility and role of architects, the design team worked alongside the local community throughout the project. through workshops and meetings and the implementation of local construction techniques, the prototype aims to be the first step toward future environmental improvement and development across the area.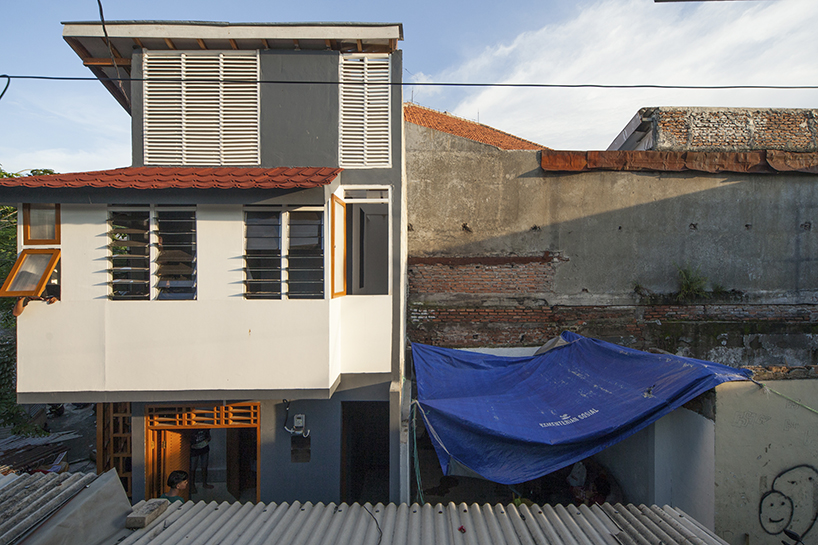 exterior view after the 'flexible skin' was applied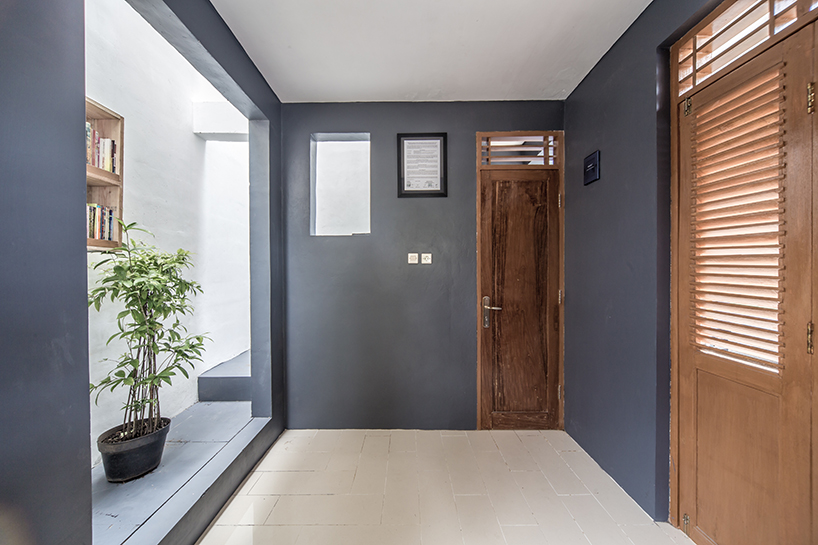 interior view at ground floor after the 'flexible skin' was applied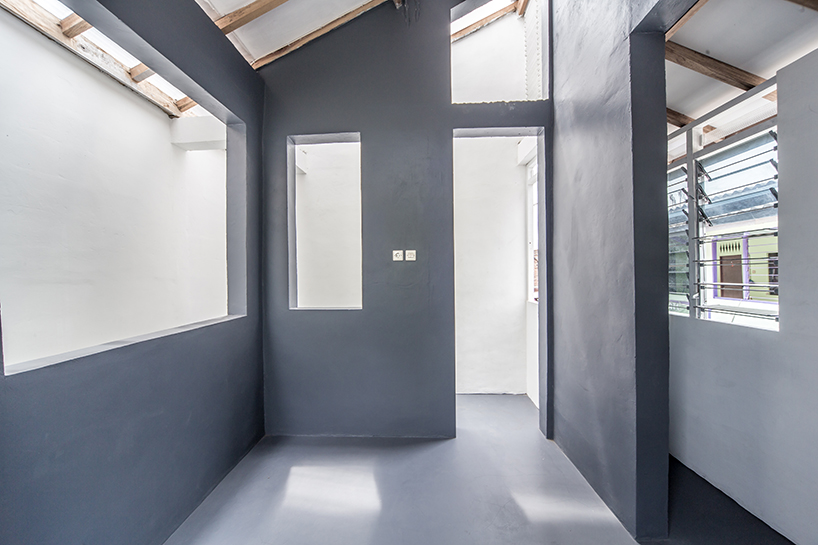 interior view at first floor after the 'flexible skin' was applied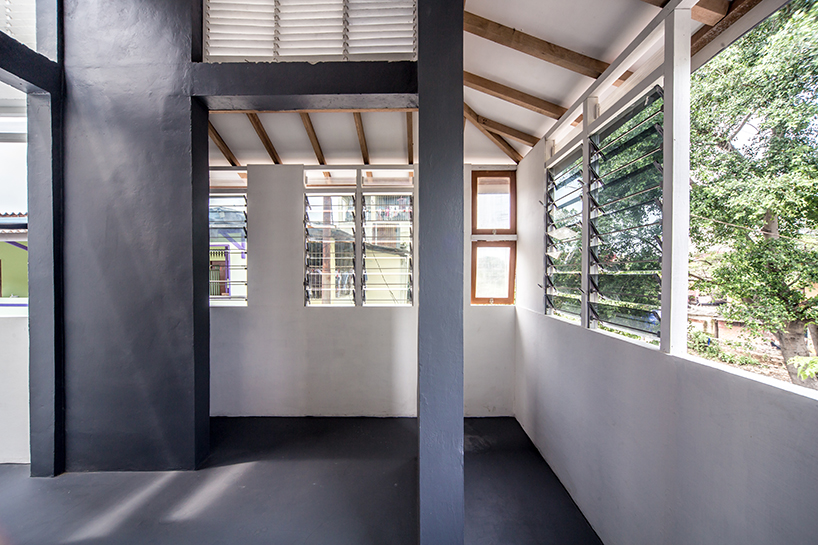 interior view at first floor after the 'flexible skin' was applied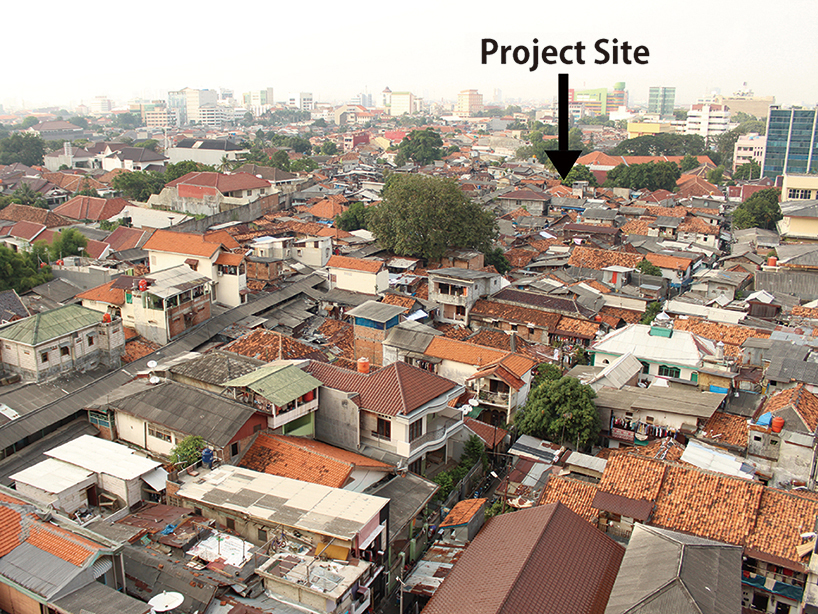 aerial photo of the project site in kampong cikini, jakarta, indonesia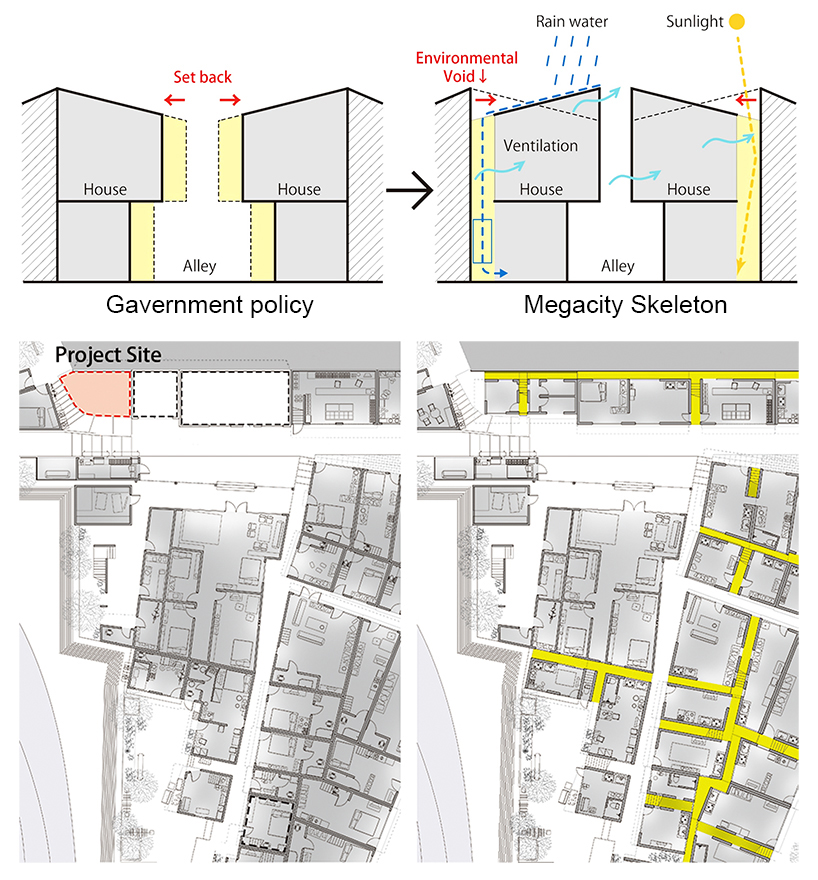 the concept of ​​the 'environmental void' that cuts the back of houses and its wide-spread vision as area environmental renovation.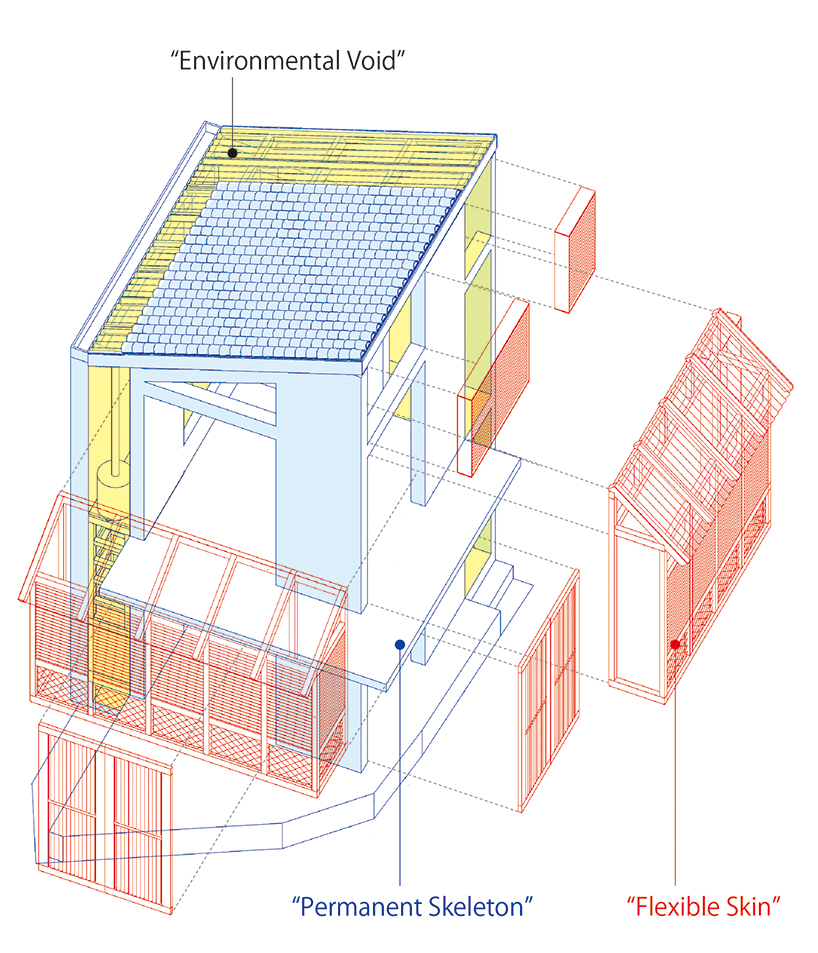 axonometric view of megacity skeleton 1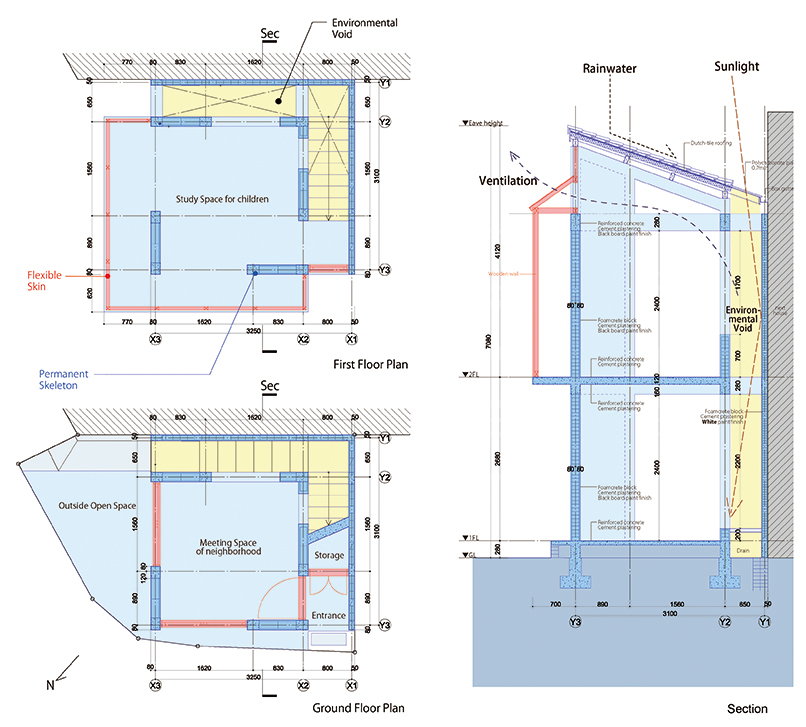 plan and sectional drawings
project info:
project name: megacity skeleton 1
location: jl.cikini keramat RT007/RW01, kelurahan pegansaan, kecamatan menteng, jakarta pusat, indonesia
architects: r/urban design office (R/UDO) + studio cikini
architects in charge: tomohiko amemiya (r/urban design office), yukiyoshikata, kazuki ueda, genta sawai, meidesta pitria, mikael johanes
project supervision: akiko okabe (the university of tokyo), evawani ellisa (universitas indonesia)
collaborating architect: achmad hery fuad (universitas indonesia)
structural engineer: akira suzuki (ASA)
gross floor area: 265.87 ft2 (24.7 m2)
building area: 144.24 ft2 (13.40 m2)
year: 2014
photography: NUWALARUPA
designboom has received this project from our 'DIY submissions' feature, where we welcome our readers to submit their own work for publication. see more project submissions from our readers here.
edited by: lynne myers | designboom
Architecture, architecture in indonesia, Art, Design, Entertainment, Inspiration, readers, social housing
Architecture, architecture in indonesia, Art, Design, Entertainment, Inspiration, readers, social housing