How to Opt Out of COVID-19 Exposure Notifications in iOS 13.5
Apple in iOS 13.5 is introducing an exposure notification API designed to allow apps created by public health authorities worldwide to notify people who come into contact with someone who has COVID-19 about their exposure to the virus.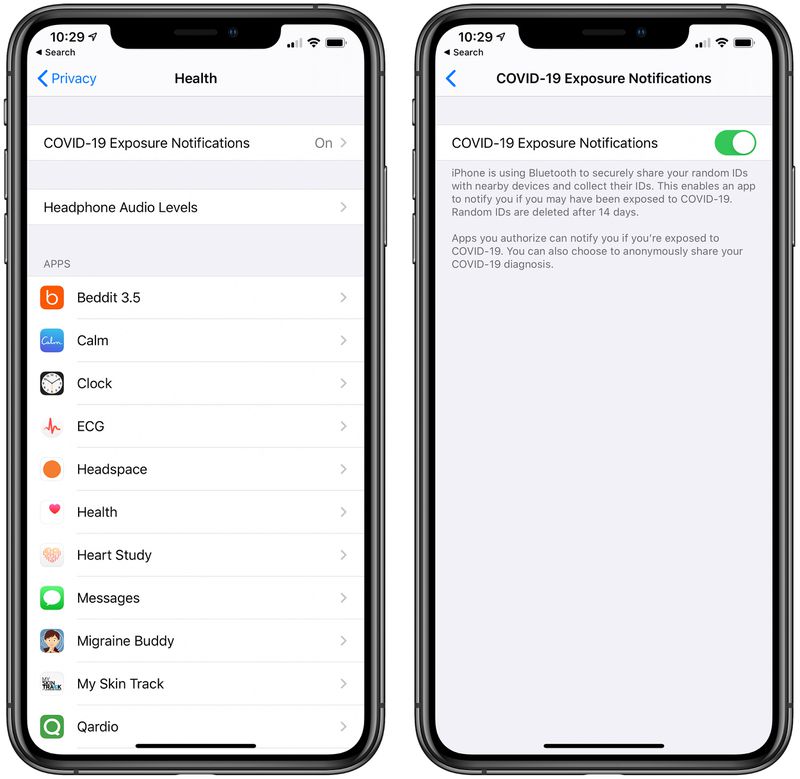 Apple's Exposure Notification feature is privacy focused and shares no personally identifiable information or location data with the public health authorities creating the apps, but some users may want to opt out of the feature, which is enabled by default when upgrading to iOS 13.5.
Apple in the iOS 13.5 update added a toggle to disable COVID-19 Exposure Notifications for those who do not want to participate and do not want to be notified should they come into contact with someone who has COVID-19. Here's how to get to it:
Open the Settings app.


Scroll down and tap on Privacy.


Tap on Health.


Tap on COVID-19 Exposure Notifications.


Tap the toggle to turn the feature off.


The purpose of the exposure notification system is to limit the spread of COVID-19 as much as possible by informing people who have been exposed so they can self-isolate and get recommendations from their local health authorities. Because it works by allowing two smartphones to interface with one another using random identifier beacons and Bluetooth, it works best when most people have it turned on.
Re-enabling Exposure Notifications can be done by following the steps above and tapping the toggle to turn the feature back on. If the toggle is green, it's on, and if the toggle is gray, it's off.
iOS 13.5 is available in a beta capacity at the current time, and there won't be apps that take advantage of Exposure Notifications until the update is released. Receiving Exposure Notifications also requires downloading an app from a public health organization that uses the API and agreeing to its terms and conditions. Simply having the toggle turned on won't do anything without the app.
Top Stories
Customers who have purchased the new 2020 iPhone SE have found a surprising missing feature – Haptic Touch does not work with notifications. On the 2020 iPhone SE, long pressing on a notification in the Notification Center or on the Lock screen does not appear to bring up rich notification options to allow iPhone SE users to interact with incoming content. Rich notifications accessed with …
Economic Daily News on Monday revived rumors that this year's 5G iPhone will feature under-display fingerprint scanner technology. According to a machine translation of EDN's Chinese-language report, touch panel maker GIS, OLED display maker BOE and Qualcomm are collaborating on the ultrasonic technology, which could feature in at least one of the high-end models in Apple's 5G iPhone…
iFixit has published its full teardown of the new iPhone SE, confirming that the device has many similar or identical components as the iPhone 8, including the display, battery, cameras, Taptic Engine, SIM tray, and more. The new iPhone SE appears to have the same 12-megapixel rear camera sensor as the iPhone 8, with the benefit of the A13 chip's improved image signal processor, as Rene…
While the iPhone SE and Magic Keyboard for iPad Pro making their way into customers' hands were the biggest news this week, we also saw a ton of rumors about Apple's upcoming product line. Confusion about Apple's plans for its AirPods lineup continues to reign, with conflicting rumors on models and timing, while we also saw some new rumors about a 23-inch iMac and an 11-inch iPad coming…
iFixit today shared a new report detailing which parts from the new iPhone SE can be replaced with those from the iPhone 8. This comes just days after a teardown video shared on Thursday by a Chinese YouTuber also highlighted many of the similarities between the two devices. iPhone 8 (left) and the new iPhone SE (right) via iFixit The report mentions that the 2020 iPhone SE's cameras, SIM…
Apple last week launched its new 2020 iPhone SE, a low-cost $399 smartphone that features iPhone 8 components upgraded with the same A13 chip available in Apple's flagship iPhones. We did a full hands-on video back on Friday, but we took the weekend to see how the iPhone SE's camera measures up to the iPhone 8 and iPhone 11 Pro. Subscribe to the MacRumors YouTube channel for more videos. …
Apple plans to launch its iPhone 12 lineup this year, but mass production of the devices will be delayed by around a month due to the global health crisis, according to The Wall Street Journal. The report claims that Apple is also slashing the number of iPhones that it plans to make in the second half of this year by as much as 20 percent. Apple typically unveils new high-end iPhones in…
A bug has been discovered in Apple's macOS Image Capture app that needlessly eats up potentially gigabytes of storage space when transferring photos from an iPhone or iPad to a Mac. Discovered by the developers of media asset management app NeoFinder and shared in a blog post called "Another macOS bug in Image Capture," the issue occurs when Apple's Mac tool converts HEIF photos taken by iOS…
Germany said on Sunday it will use Apple and Google's decentralized contact tracing API, reversing course on its original intention to use its own solution to track the spread of coronavirus. Last week, the German government said it would use its own home-grown technology for smartphone-based tracing of infections, based on a design that would hold personal data on a central server….
Apple, COVID-19 Coronavirus, Exposure Notification, iOS 13, Mac, Technology
Apple, COVID-19 Coronavirus, Exposure Notification, iOS 13, Mac, Technology