pygmalion karatzas shares free online resources for architectural photography
architectural and fine art photographer, pygmalion karatzas, presents a number of free online resources for readers to explore from the safety of their home during the COVID-19 pandemic. the selected resources include e-books on issuu, numerous interviews with renowned photographers from around the world, educational presentations (academic papers, lectures, workshops), and videos on vimeo.
the compilation begins with the academic paper 'integral lens – exploring a multi-perspectival approach to architectural photography', which was presented at the 3rd integral european conference in hungary in 2018. co-authored by pygmalion karatzas and professor of architecture at the university of tennessee in knoxville, mark dekay, you can read the paper in full here.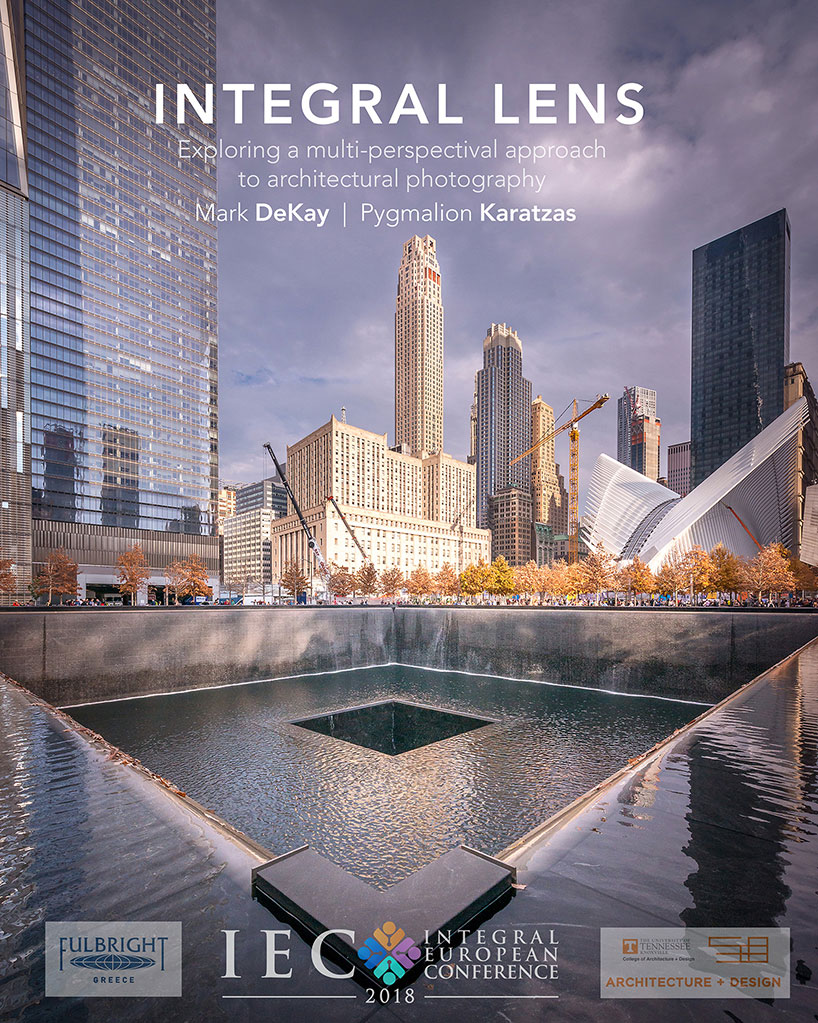 integral lens: exploring a multi-perspectival approach to architectural photography
all images courtesy of pygmalion karatzas
'in this paper we explore an integrally-informed, wilber-influenced approach to architectural photography's many variations. using historical examples, we examine four fundamental perspectives (quadrants) of the eye (UL), view (LL), frame (UR) and practice (LR). each quadratic perspective is unpacked for four domains: the photographer, making of the photograph, the photograph itself and viewing the photograph.' a lecture presentation of the paper was also given at the trieste photo days festival, which can be accessed here.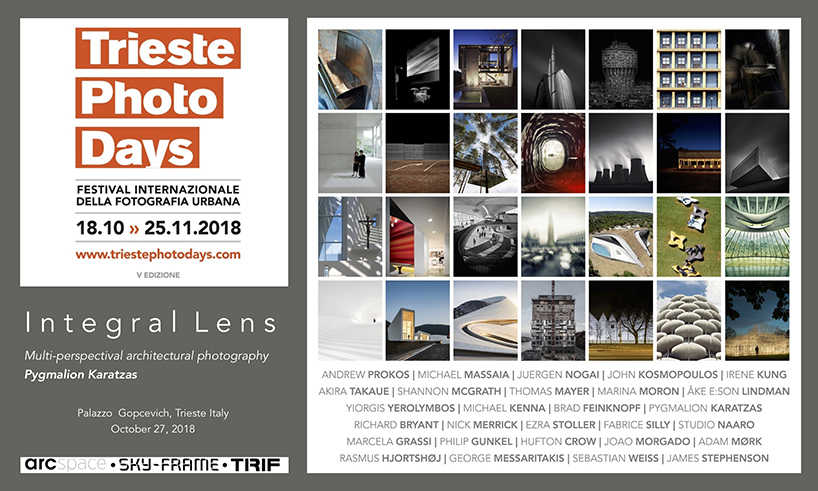 trieste photo days: integral lens lecture
a combination of the above material has also been edited in a digital exhibit as part of the integral european conference 2020 integral art track, and is available on vimeo in five parts:
part 1 – 'place is a process'
part 2 & 3 – 'thinking integral photography' & 'through the integral lens'
part 4 – 'the feeling of form'
part 5 – 'teaching the view through integral lens'
in addition to the above material on his 'integral lens' paper, karatzas has also shared a presentation covering an academic course on architectural photography, which was given during the university of tennessee knoxville mini-term. it includes shooting in manual mode and camera basics, composition in photography, post-processing in lightroom and photoshop, long exposure photography, and typologies of architectural photography.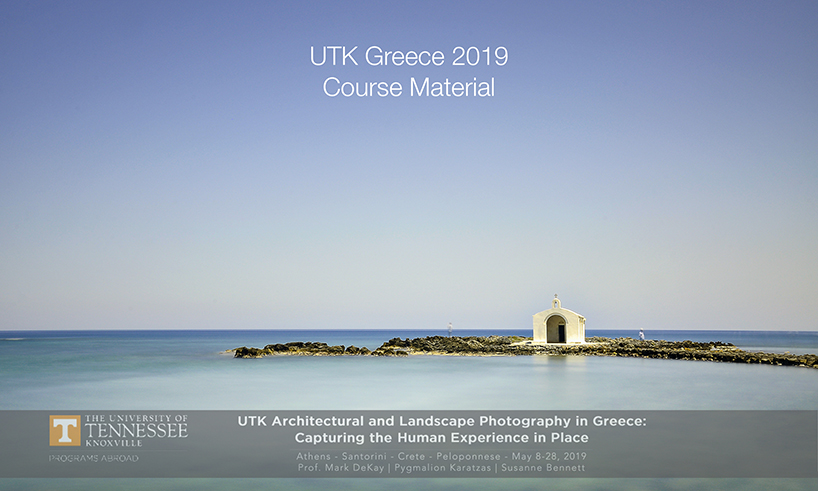 UTK greece 2019 course material
in collaboration with the danish architecture center and their e-zine arcspace.com, karatzas has produced 32 exclusive interviews with renowned photographers from around the world since 2014. comprising a rich and diverse database and showcase of photographic authorships, the interviews include Q&A discussions exploring aspects such as: the background biography and influences of the photographers, the overall vision and approach, the relationship between architects and photographers, specific key projects in assignments and personal work. the interviews can be found here and a selection of them have also been edited in a magazine format available on issuu.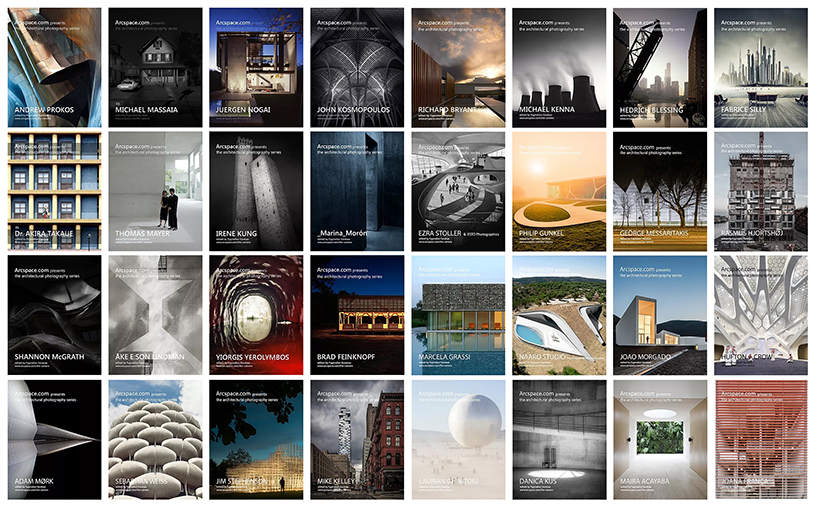 interviews with renowned photographers
the last section of resources includes a selection of architectural photography e-books. 'morphogenesisvol.1 & 3' presents a selection of iconic projects from european cities – edinburgh, glasgow, frankfurt, munich, stuttgart, basel, modena, rome, taken in 2013 and 2014 during a photographic tour from scotland to germany to switzerland and italy. 'morphogenesis vol.2' continues with a selection of iconic projects from doha in qatar.
'morphogenesis vol.1 & 3' and 'morphogenesis vol.2′
'EXPO 2015 milano' is a presentation of the pavilions of the 2015 world EXPO in milan. the companion volume 'holarchies' focuses on architectural abstracts from the pavilions.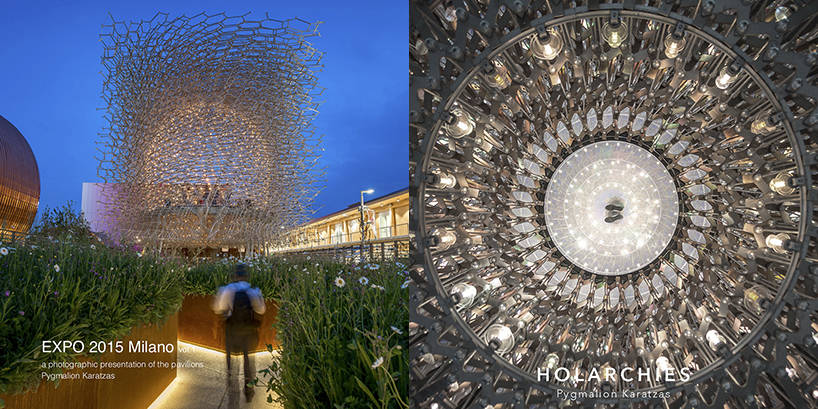 'EXPO 2015 milano' and 'holarchies'
the photo books 'integral lens' present a project awarded with a fulbright scholarship in the united states taken between 2015 and 2016 and covers 12 cities in 8 states during a 5-month period. the subject was a multi-perspectival approach to the study and representation of the built environment. the college of architecture and design from the university of tennessee in knoxville was the affiliated academic institution and professor mark dekay supervised the project.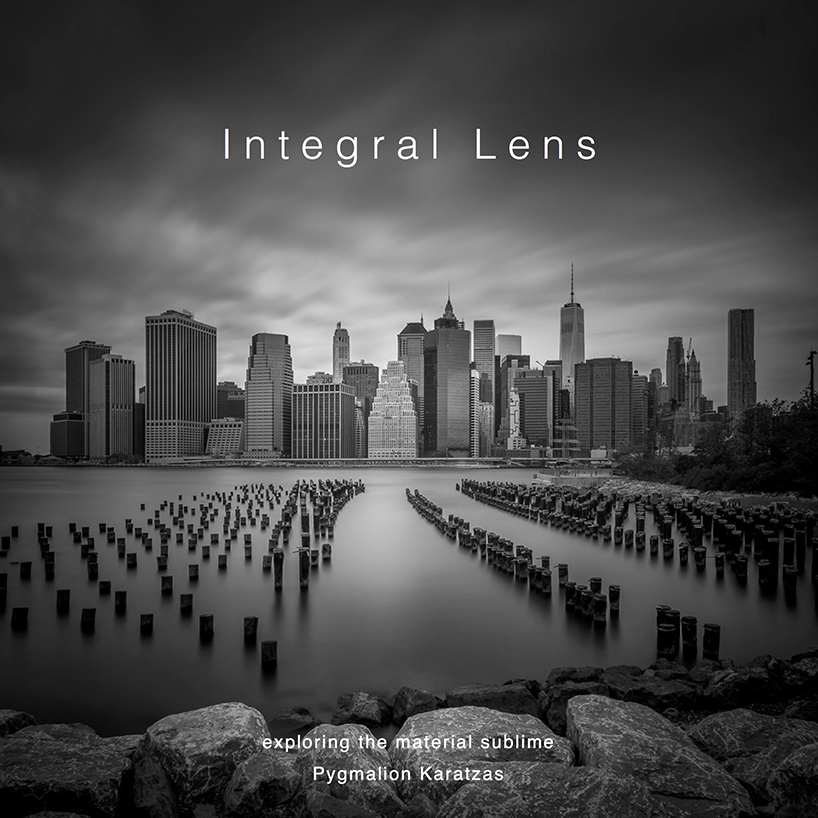 another production from the integral lens project is the book 'future memories', an editorial presentation of 26 buildings from 11 american cities.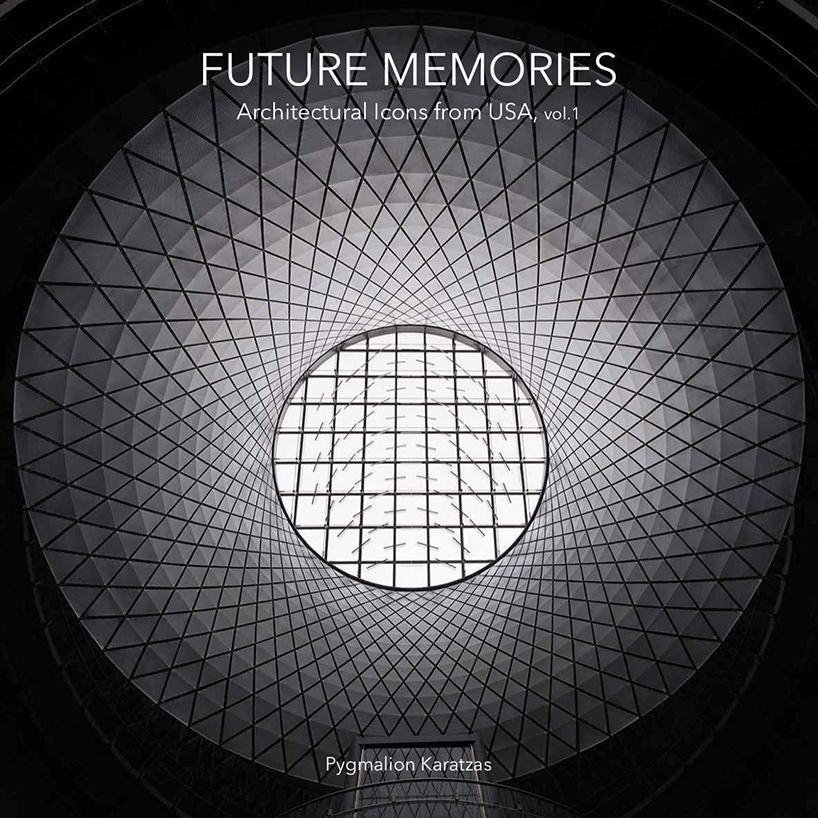 these self-initiated projects have been produced over a period of seven years parallel to the photographer's commissioned assignments, informing and enriching each other with a genuine effort to portray the tour de force of contemporary architecture. public buildings are a point of attraction for every city and photography becomes the vehicle to explore and experience them more comprehensively. they have been compiled here to serve as informative and educational material, in service of the profession's dissemination and cultural asset value. 
project info:
project name: integral lens
photography: pygmalion karatzas
designboom has received this project from our 'DIY submissions' feature, where we welcome our readers to submit their own work for publication. see more project submissions from our readers here.
edited by: lynne myers | designboom
architectural photography, Art, Design, Entertainment, Inspiration, pygmalion karatzas, readers
architectural photography, Art, Design, Entertainment, Inspiration, pygmalion karatzas, readers